Welcome to Town and Country Animal Hospital!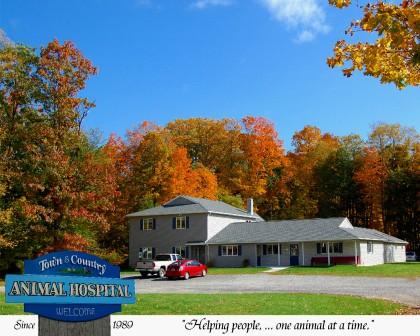 Town and Country Animal Hospital, PC is a full service veterinary practice located in Warriors Mark, PA. With our companion animal hospital (expanded in 2008) and mobile farm veterinary units, veterinary services for all species of animals are provided to the surrounding central PA area, including Warriors Mark, Tyrone, Altoona, Bellwood, Spruce Creek, Huntingdon, Port Matilda, and State College.
It is our commitment to provide quality veterinary services to our farm and companion animal clients and the animals they entrust to our care. Our group practice setting fosters teamwork and mutual respect in a professional, caring atmosphere. We seek to provide quality veterinary care in a friendly and consistent manner. The promotion of animal health and client education are integral parts of our daily focus in both companion animal and farm animal practice.
We understand the special roles animals play in peoples' lives, and are dedicated to being your partner in your animal's health care. Our entire healthcare team is committed to providing personal attention to the unique concerns of each individual animal owner. At this site, www.tcvet.net, you will find information about our practice philosophy and our services, our doctors and staff, educational materials and useful links of interest to animal owners and caretakers, helpful forms to assist you, and an extensive Pet Medical Library for you to search for additional animal health care information.
Thank you for taking the time to read about our veterinary practice and the services we offer. We welcome your comments and suggestions. Please explore our website, and contact us at (814) 632-9700 for all your animal health care needs.